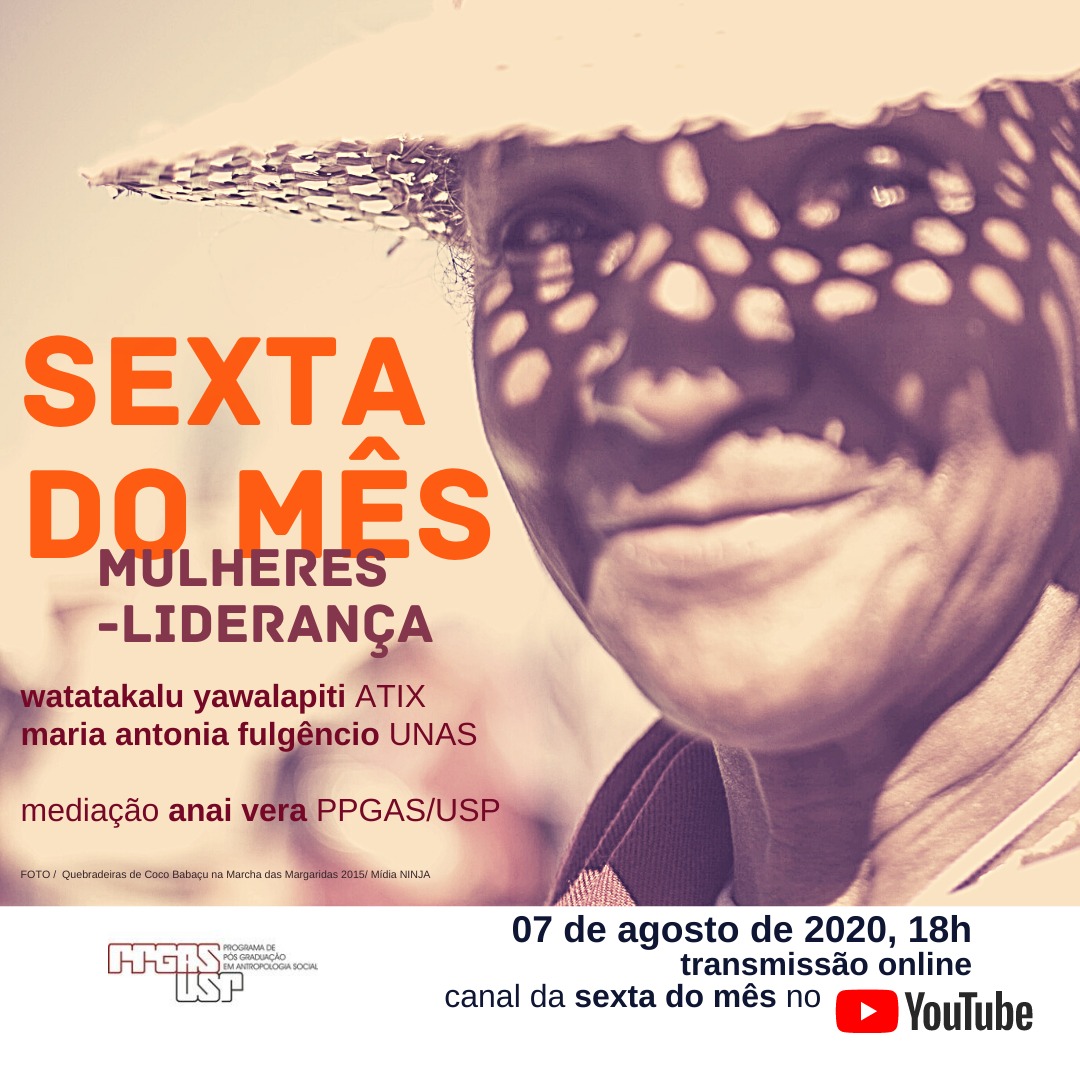 Local
Live broadcast on the Friday of the Month Channel on Youtube
with Maria Antonia Fulgêncio (UNAS) and Watatakalu Yawalapiti (ATIX)
mediation by Anai Vera (PPGAS / USP)
On the Friday of the month channel on youtube - https://bit.ly/sextadomes
Seven months of covid-19 and Brazil reaches the second place with the highest number of infected and dead in the world ranking. At a time when the contagion curve is still rising and the pandemic is advancing over regions of the country with low hospital capacity, several states and municipalities are beginning to adopt measures aimed at easing quarantine. The pandemic reinforced social inequalities, opened up privileges and showed that black and indigenous people remain the most vulnerable. How can we suggest rigorous hygiene at home when half the Brazilian population does not have access to piped water and sewage? How to suggest staying at home when many are not entitled to housing? How can we not leave, if the workforce of the so-called essential services is mostly black - and in some contexts, indigenous? How will the precipitous opening impact different parts of the population?
Closing the "Friday of the Month: In times of pandemic" debates, we sought representatives of the groups most affected by the current government's death policies: women from indigenous communities and black urban and rural communities. As shown by the ethnography made by Denise Pimenta (2019) on the Ebola epidemic in Sierra Leone, women were the main victims of the disease, not by chance: they were the ones who, through their relationships of affection and kinship, were at risk leading the fight against Ebola in their communities. This "dangerous care", a notion that the researcher described in her research, is connected to the experiences and forms of care built by countless women leaders in the face of the arrival of covid-19 in their territories in Brazil. Yanomami mothers beg for their children's bodies; upper Xingu women will not be able to cry their relatives in the Qwarup ritual; in the quilombola community of Kalunga, in Goiás, young women were contaminated by employers who traveled outside the country and were then sent back to the community.
Constructing their own strategies to fight the disease in their territories, women-leaders invited to share their experiences on Friday of the month of July will bear witness to the impacts of the disease and the omissions of the Brazilian state in their communities; the autonomous initiatives built to face this scenario and the challenges that may still be imposed ahead. After all, is it the virus that kills or inequality? How can anthropological research help to reflect on these local constructions, in addition to resonating demands?
Friday of the Month Commission
Monthly Student Event of the Graduate Program in Social Anthropology at USP
sextadomes@gmail.com