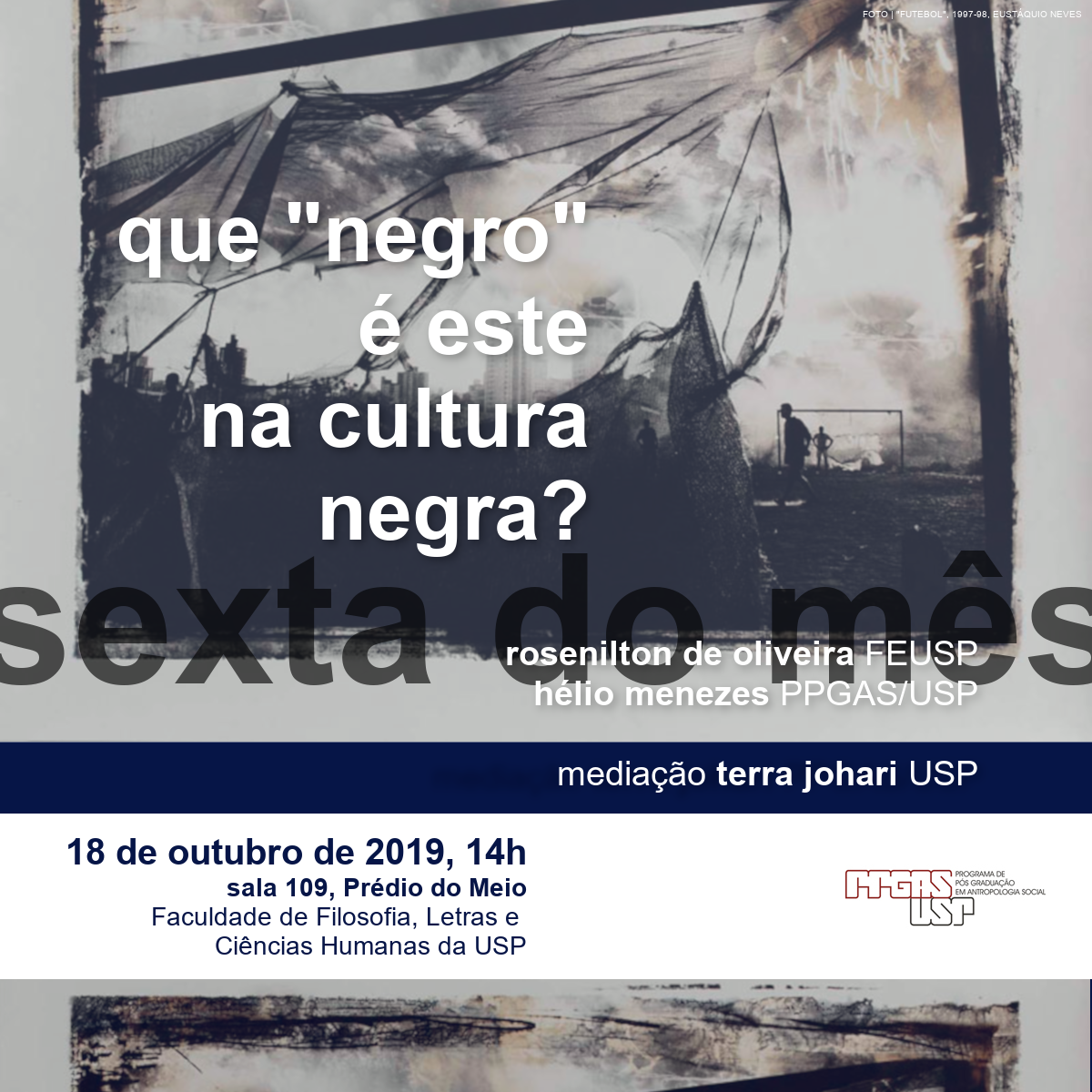 Local
room 109 of the FFLCH-USP Building of Social Sciences and Philosophy
with Rosenilton Oliveira (FEUSP) and Hélio Menezes (PPGAS / USP)
Mediation: Terra Johari (USP)
Friday, October 18, 2019, 2pm
"What' black 'is this in black culture?" Asks Stuart Hall in a study on the presence of African cultural heritage in the transatlantic context. The debate around artistic and cultural productions and their respective producers gains emblematic contours when it comes to adjectivating them from toponymic (African, European, American, etc.) or ethnic-racial (black, indigenous, among others) markers.
In the Brazilian case, the controversy about the "afro" and the "Brazilian" is a dilemma that founds the nation, a process marked by an asymmetric dialogue between subjects and cultures. On the one hand, in the field of the arts, as anthropologist Hélio Menezes shows in the curatorship of the exhibition Histórias Afro-Atlântica (MASP / Instituto Tomie Ohtake), it was agreed to call "black art" that in which black bodies and people were represented, without the question of black authorship being on the agenda. In his master's dissertation, Menezes argues that the difficulties in conceptualizing this art and its different meanings, throughout the 20th century, are related to the ambiguities that inform race relations in Brazil. On the other hand, Rosenilton Oliveira, at the crossroads between discursive practices and political actions, demonstrates how the notions of "culture" and "black identity" assume ambiguous conceptions among the religious groups that make up the black movement in Brazil, so that the so-called "processes of reafricanization "assume perspectives that are sometimes radically different, but which, paradoxically, allow consensus to be established in the public sphere.
This Friday of the month we want to reflect on the processes of (re / de) Africanization of art and culture produced in the American continent. We will think from two ethnographies produced at PPGAS / USP, "The color of faith: 'black identity' and religion", thesis by Rosenilton Oliveira and "Between the visible and the hidden: the construction of the concept of Afro-Brazilian art", dissertation by Hélio Menezes. With them, we want to ask ourselves: What are the challenges observed in the process of classifying artistic and cultural productions of African origin? What do the categories that name products and producers in the field of art and cultural identities reveal?